Master Program in Business & Management, Specialization in Marketing & Media Management
This specialization is intended for those who are passionate about making a difference in people's lives, in business life, or in society at large.
Our vision is that after successfully completing the marketing and media management specialization you will be the top choice for organizations recruiting marketers and media managers, and that you go on to become the future leaders in marketing, media management, or other industries you may choose to work in. Our vision of the future leaders is that they will be creative and entrepreneurial, but also reflective and responsible.

It will provide you with skills and tools to successfully engage in creative business development. It will significantly deepen your ability to make sense of and take action in rapidly developing market contexts, such as the new media sector. It will provide conceptual tools for, as well as hands-on training in, identifying opportunities, developing ideas, and turning visions into reality.
I chose SSE as it is a high-ranked and reputable business school located in a city with a vibrant business community and start-up scene.
Steven Eigner
from Germany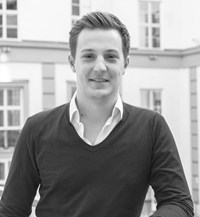 Why did you choose to study at SSE?
I knew that I wanted to do my Master's outside of Germany and I always was curious about going to Sweden as I have heard so many great things about the country and its people. I chose SSE as it is a high-ranked and reputable business school located in a city with a vibrant business community and start-up scene. The chance to earn a double degree through the CEMS program definitely also influenced my decision.

How have you experienced your program so far?
It's great and really challenging. Besides regular lectures the first semester was packed with many different assignments and group projects. But I really enjoy it as I am learning a lot and because we have so many great people with many different backgrounds in our program. This makes studying and working together being real fun.

How do the classes differ from where you studied before?
The classes are much smaller and a lot more interactive. We have many group assignments and projects both in-class and together with corporate partners. We also have guest lectures regularly by alumni in leading positions, who share with us their insights into many different fields. This is really inspiring and unique.

What are the teachers like?
The professors show a lot of dedication to the subject they teach. They always incorporate the latest research findings and business insights and always ask students for their feedback. This is something I really appreciate. Another is the interaction with them: it's always on a really personal level and everybody calls each other by their first name, which creates a great atmosphere.

How is it to live in Stockholm?
Located directly by the water, Stockholm is a beautiful city - especially in summer. People really enjoy life here and everybody is quite laidback and very nice. I live in Södermalm, a very hip place where a lot of bars, restaurants and clubs are located. But the city centre has so much more to offer for every kind of interest. For example, I want to try out sailing in summer which you can do in the middle of the city and I really look forward to that.

What are you planning to do after graduation?
I haven't thought about it so much yet. I am very interested in business development, especially connected to Mobile- and E-Commerce. I also have previous experience in the automotive industry, so that also would be an option. However, as long as the task is challenging, exciting and in an international environment I am pretty much open for anything.
Learning from practice
The courses are designed to bridge the gap between academic research and commercial execution – to use research findings to solve real-life business problems. Working on real projects, solving real problems for real companies is a cornerstone in the specialization. The large alumni network is an important corner stone of the program that gives students the opportunity to have regular contacts with marketing and media managers.
Several courses in the specialization include internship periods in well-known organizations, allowing students to establish business contacts during the program period.
The alumni network and the extensive business contacts that have been built up around the courses of the program also constitute an important bridge between the program and the students' future careers.
Getting prepared for new challenges
The first semester provides tools for addressing strategic issues related to marketing, business development, and markets. You learn how to analyze changing markets, how to integrate different functions in the firm, and how to ensure that market orientation and customer value creation permeates the organization.

In a parallel course, you focus particularly on identifying and exploiting opportunities and managing challenges that face media corporations today. This is followed by a full semester in creative business development, brand management and marketing communications. The aim of these courses is to help you deal with the most important challenges facing corporations on today's highly dynamic markets.

The second year gives you opportunity to broaden your competence base by spending one semester at another university or business school within our international exchange program; by attending our special trainee program; or by taking elective courses from other master specializations. The final semester is devoted to writing your thesis, which provides opportunity to further specialize in an area of particular interest to you.
Creating a program with a unique atmosphere
The specialization cares about the unique family atmosphere with fairly small lecture sizes. A small business school allows students to get to know each other and take the most out of small classes. The small-scale, unique atmosphere includes direct links to corporate partners and interaction with high-level management, including the alumni network. The dynamic business environment of the Stockholm region with many high-tech media start-ups and large Swedish and foreign media related organizations is also something that the marketing and media management specialization takes advantage of.