Master Program in Business & Management, Specialization in Management
The specialization in Management will enable you to translate new ideas into direct action, make better decisions and lead others. Our goal is to develop your potential students to take on leadership roles when you graduate.
Live projects
– gain real world experience from day one
The specialization is founded on a series of live projects with industry clients who view you as a consultant and expect concrete results. Working with projects within innovation, business development, and change means that you produce real value through real impact. Some projects will also allow you to seek out firms and industries of your choice. The program faculty has great industry and consulting experience, as well as experience from executive education. Coupled with the latest research and continuous dialogue with corporate partners, this ensures that the program contents always are updated and relevant.
I want to develop my career working for companies that create something new, and have a vision to match it.
Arwen Smit
Student from The Netherlands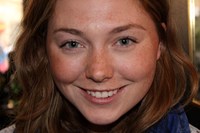 Why did you choose to study at SSE?
To me, the choice to do a Master in Business and Management at SSE stood out because of its many opportunities for personal development. The program is strongly practice-oriented with almost every course linking to a company or case.
Also, there is plenty of opportunity to network with the alumni-network, partner-corporations and sponsors, and students and staff. Sweden has one of the highest scores on professional equality between men and women, and SSE in particular organizes a fair amount of events encouraging its female students to 'lean in' and network with interesting companies such as for example McKinsey.

How do the classes differ from where you studied before?
Coming from the Rotterdam School of Management in the Netherlands I think it is safe to say that in comparison the nature of teaching here in Sweden is different. The classes are small and the perceived distance to professors is relatively short. My current class consists of approximately 40 students whereas some courses at RSM were lectured to 400 students at the same time. The small scale of the class makes that you are really close with your classmates and the format of the lectures encourages students to learn from each other's experiences.

What are the teachers like?
What positively surprised me is the willingness of some professors to open doors for you. For example, my master thesis supervisor Anders Richtnér and the finance professor Per Strömberg (whom I never even met before!) both were invaluable with getting a foot in the door with venture capital firms in Sweden to gather information for my thesis.

What are your career goals?
I want to develop my career working for companies that create something new, and have a vision to match it. Previously I have interned from Google and Facebook and I am very interested in how technology can be both an add-on and a self-sustaining product and I am looking forward to explore those frontiers in future international opportunities.


Some perceive leadership to be a soft skill
– We consider it to be the hardest skill
Access the latest research and gain new perspectives necessary for your personal development and future career. Through applying your previous knowledge of accounting, finance and marketing, the specialization in Management further hones your skills in financial analysis, business planning, analytical problem solving, and creative business development.

Focusing on your personal development, the program also prepares you for the leadership challenges and responsibilities of project management and future executive positions. After the program you will have developed your understanding of team dynamics, project management, negotiations, and communications. Many of the teachers have extensive executive education experience, work part of their time as consultants and advisors to companies in Sweden and abroad, and you will receive the same leadership training that most receive after working 5-10 years.
The program has been very practical where we have gotten the opportunity to put theory in to practice with real business cases for real companies.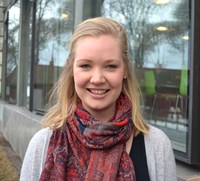 Why did you choose to study at SSE?
I did my bachelors at SSE and really liked the curriculum, the professors, the close connections to the business community and especially the friendly environment. I knew it was going to give me a great start in my career as a degree from SSE is highly appreciated, both in Sweden and the UK (in my experience).

How have you experienced your program so far?
I like it very much. It has been very practical where we have gotten the opportunity to put theory in to practice with real business cases for real companies. There is a lot of group work, which teaches you a lot about working with people from different cultures, and you get to know your class very well.

What are the teachers like?
The teachers are very friendly and helpful. They are easy to approach and most classes are very interactive where you are encouraged to reason yourself and also discuss issues with the teachers.

How is the student life on Campus?
The student life is one of my favourite things about SSE; the small size of the school creates a very friendly atmosphere and there is always something happening in the student association (SASSE); parties, stand-up pubs, debates, sport practices, ski trips and anything in between.

What are your career goals?
I am not aiming for a certain position or industry, but see my goal to always be in an environment where I learn something new and where I am surrounded by interesting and motivated people. I want a career that can take me places in the world, both for business but also aid work; I want to be able to give back to the world and society somehow, both with money and time.

What are you planning to do after graduation?
I want to work with business development and strategy, either as a consultant or as an internal hire.
More than a mainstream career
As a graduate from specialization in Management you are likely to start off your career in the consulting industry or a trainee program, and then move on to other interesting positions. Some recent entry-level jobs include Consultant, Business Analyst, Account Manager, Junior Brand Manager, and Finance trainee at companies such as L'Oreal, BCG, Google, Bombardier Aerospace, McKinsey, Public One, Nordea, Ernst & Young, Applied Value, and Unilever.

Additionally, the program also provides you with valuable skills needed to become an entrepreneur and start your own company.
"Students at SSE Master in Management receive a solid foundation in reducing complex business challenges to comprehensive decision sets and based on these are able develop perspectives and recommendations that are easily translated to actions."