Misum Research
Misum is a social science research center focused on sustainability research and with competences in economics, finance, and leadership and strategy, the latter including in particular the design of effective and just accounting frameworks and the management of sustainable and social innovations. Misum's ambition is to be a sustainability center of excellence, producing research of highest international quality. Our scholars come from different departments and centers at the school and our research projects are designed to systematically explore how governance mechanisms may best advance market actors towards sustainability by changes in norms, policies, new organisation forms, entrepreneurship and new pricing and financing models.
Misum aims is to develop cutting-edge research on how to transition markets towards sustainable development, while the impact sought is to develop interdisciplinary academic thought leadership about how key market mechanisms can work to advance the transition of Swedish markets towards sustainable development for management education, business and policy practice. The UN2030 Agenda underscores how environmental, social and economic development must be underpinned by good governance and global collaboration. In this context, Misum's expertise concerns how markets govern and are governed in the interplay with policymakers and civil society organizations to best advance the transition towards sustainable development. The impact Misum seeks is beyond the brief of traditional research centers in that Misum wants to stimulate change for the benefit of society. Our researchers study not only the explicit and implicit mechanisms that determine the behaviors of market actors (governments, businesses, business owners, employees, consumers, regulators, NGOs etc.) and respective market outcomes, but also how those actors may be best engaged in changes. Thus, we seek an active dialogue with our stakeholders to exchange knowledge and generate solutions by collaborative research projects.
The conceptual framework on how to advance markets towards sustainable development is linked through our three research platforms and the cross-cutting initiative on sustainable finance (see figure below).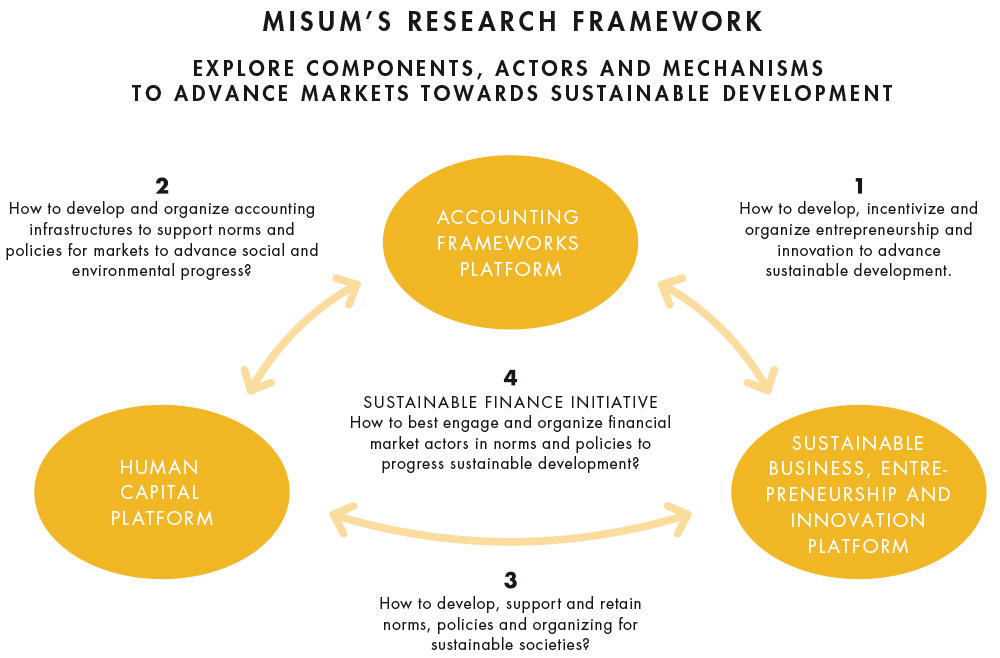 Misum research framework: How to govern markets towards sustainable development - mechanisms and overarching research questions connecting 3 research platforms and one cross-cutting initiative.