Misum meets Kate Raworth
On May 23, 2018, Misum met Kate Raworth at a seminar arranged together with SIWI (Swedish Water House) at the Stockholm School of Economics. Kate Raworth is from Oxford University, and author of the best selling "Doughnut Economics. Seven ways to think like a 21 century economist". She held a lecture and Mette Morsing, Professor in Sustainable Markets at Misum/SSE reflected and commented upon it.
The great challenge for our generation is how to satisfy the needs of people and societies within existing planetary assets and resources. Kate Raworth, Research Associate at Oxford University, has recently published a book that challenges the traditional economic theories that evolved during the 19th and 20th century. She draws up the alternative model "Doughnut Economics", where the outer ring of the doughnut marks the environmental limits for human activity and the inner ring the limits for acceptable living standards for humans. So how can a new economic model help us to operate in a space that is both ecologically safe and socially just?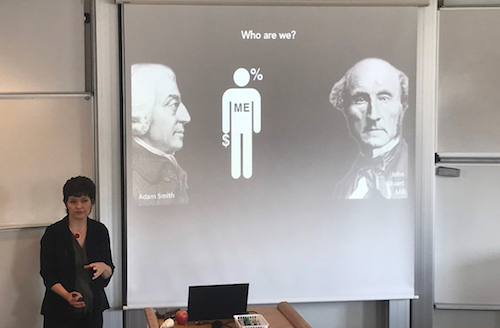 Watch the seminar here (Kate Raworths lecture) and here (Mette Morsings reflections).
Kate Raworth is a Senior Visiting Research Associate at Oxford University's Environmental Change Institute. She is also a Senior Associate at the Cambridge Institute for Sustainability Leadership. Over the past 20 years, Kate's career has taken her from working with micro-entrepreneurs in the villages of Zanzibar to co-authoring the Human Development Report for UNDP in New York, followed by a decade as Senior Researcher at Oxfam.
Kate's internationally acclaimed idea of Doughnut Economics has been widely influential amongst sustainable development thinkers, progressive businesses and political activists, and she has presented it to audiences ranging from the UN General Assembly to the Occupy movement.
Video with Kate Raworth: what is business for?
video with Kate Raworth: "If I were to teach students their first year of finance..."
Kate Raworth: We need to re-invent money (short)
Kate Raworth: what is business for (short)