PRME Principle 5 and 6: Partnerships and Dialogue
Principle 5: We will interact with managers of business corporations to extend our knowledge of their challenges in meeting social and environmental responsibilities and to explore jointly effective approaches to meeting these challenges. Principle 6: We will facilitate and support dialogue and debate among educators, students, business, government, consumers, media, civil society organizations and other interested groups and stakeholders on critical issues related to global social responsibility and sustainability.
SSE was started more than 100 years ago by the Swedish business community and thus has had strong ties to the private sector ever since. Corporate stakeholders as well as NGOs and public organizations play a significant role in SSE education, in terms of guest lectures, case studies or to support applied student projects. Besides various case-specific partnerships in education and research (principle 3 and 4), SSE frequently arranges public events, research seminars and interacts with important media to contribute with expertise to the public debate and respond to the increased demand for sustainability knowledge and CSR strategies.
"We want to be a meeting point for actors from different sectors and fields, researchers, students, policymakers and decision makers, for exchanging knowledge, thoughts and ideas. This type of exchange is crucial for Sweden's future competitiveness," says SSE President Lars Strannegård.
Bringing together students, faculty and staff
Despite being a rather small academic institution with about 1700 students, SSE has a rich campus life with diverse academic entreprenuerial and social initiatives. The School's leadership puts a special emphasis on sustainability and the personal development of students, which manifests in a strong and independent Student Union, represented in all major decision-making bodies, arts on campus, and most recently the "Sustainable SSE" (SSSE) group, bringing together researchers, students and all major professional service units of SSE on a regular basis to adavance sustainability values and activities in research, education, outreach and campus management.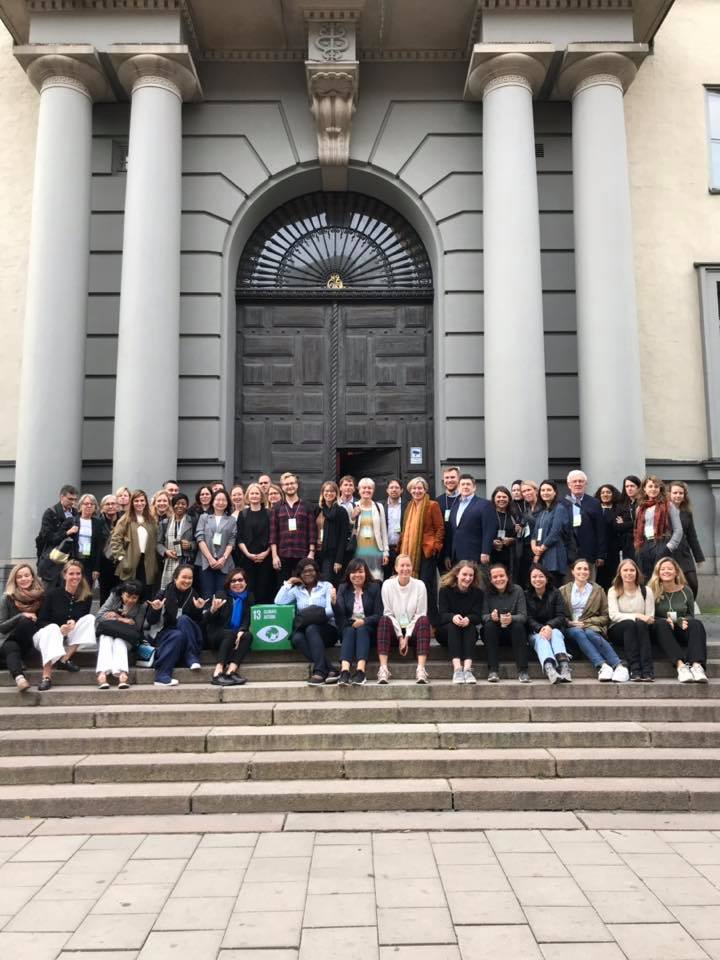 Engagement with businesses, politics and international organisations
In line with our history and our mission, we have strong ties with the corporate world and the most important business actors in Sweden. As Sweden is a frontrunner in many sustainability matters, as climate change mitigation or equality, but still faces many challenges in fullfilling the broad Agenda 2030 and achieving the UN SDGs, we see much potential for knowledge exchange and scientific consultation how business and decision-makers can adapt more effective strategies and address potential short-comings.
Apart from individual projects and individual researchers providing expertise for public and private bodies, we have some major long-term initiatives and strategic partnerships. A major example is the Stockholm Sustainable Finance Center, an interdisciplinary knowledge hub for the investors and politicians, co-chaired by Misum (principle 4). Another project that has had a lot of impact on big companies in Sweden is the "Walking the talk" report series, an analysis of the CSR communication and actions of the 84 Swedish Nasdaq OMX Large Cap companies, that is published by Misum every two years since 2015. Given the increasing attention of national and international media, several of the Large Cap companies have reacted to conclusions and recommendations, and Misum actively engages with their managers to help them improve (see video and reports on the right hand-side).
SSE takes also active part in important international organizations to drive responsible management education in Sweden and beyond: We are member of CEMS, the global alliance in management education, with 32 leading business schools and nearly 70 multinational companies and NGOs participating and together offering the CEMS Master in International Management. Through the involvement of social partnersin the classroom and governance, to faculty groups and students working on corporate social responsibility and sustainability issues, all CEMS stakeholders benefit from this global discussion on sustainability. The CEMS academic and corporate members work collectively to develop knowledge and provide education that is essential in the multilingual, multicultural and interconnected business world.
Within the PRME community itself, SSE is active in the PRME champions circle and the PRME Nordic chapter. PRME-specific projects include the PRME Nordic PhD Course that is offered to students of signatories in four different countries with rotation every two years, the UN PRME Blueprint for mainstreaming the SDGs at business schools and the PRME student ambassor program. SSE has furthermore started an initiative with the UN Global Compact Network Sweden, where students work together wth selected member organizations to improve their CSR strategies.