Future Proofing Swedish Sports - How to Become a More Inclusive and Competitive Sport Nation?
08 March, 2023
On March 8th, on International Women's Day, the Center for Sports & Business held an event on the topic of future proofing Swedish sports - how to become a more inclusive and competitive sport nation? The event featured prominent speakers from the world of sports, media, business and politics, including Petra Noreback, Karin Torneklint, Åsa Edlund Jönsson, Linda Wijkström, Caroline Strand, as well as Jonus Bartholdson.
Sport is a central part of the Swedish DNA. Regardless if it concerns grassroot sports or elite sports, we "punch above our weight". On March 8th, on International Women's Day, we celebrated these achievements, but also looked into the future. What is required from coaches, media and sports executives?
The welcome adress was delivered by the Director for the Center for Sports and Business, Martin Carlsson-Wall. Thereafter, Petra Noreback, State Secretary to the Minister for Social Affairs and Public Health held the first introductory speech, giving the policy perspective on these issues and outlining efforts the government is conducting.
Next, Karin Torneklint, the first female captain in Swedish athletics and among the first in the world held a keynote speech on the topic of The Coaching Perspective - Developing world class athletes with a Swedish touch, talking about her experiences and what is required to promote more female coaches.
Subsequently, Åsa Edlund Jönsson, former Head of SVT Sport and current General Secretary of the Swedish Olympic Committee held her keynote speech on The Media Perspective - Creating a more gender equal sport reporting, where she, among others, described SVT Sport's journey moving towards gender equal sports coverage within five years.
Finally, the evening was concluded with a panel discussion featuring Linda Wijkström (Board Member Djurgården Football and former General Secretary for Elitfotboll Dam and Member of UEFA's Women's Football Committee), Caroline Strand (CEO of Visit Stockholm and Board Member for Elitfotboll Dam), as well as Jonus Bartholdson (CEO of Pulsen Group, a big sponsor of women's football) on the topic of How can Sweden remain a world power in women's football?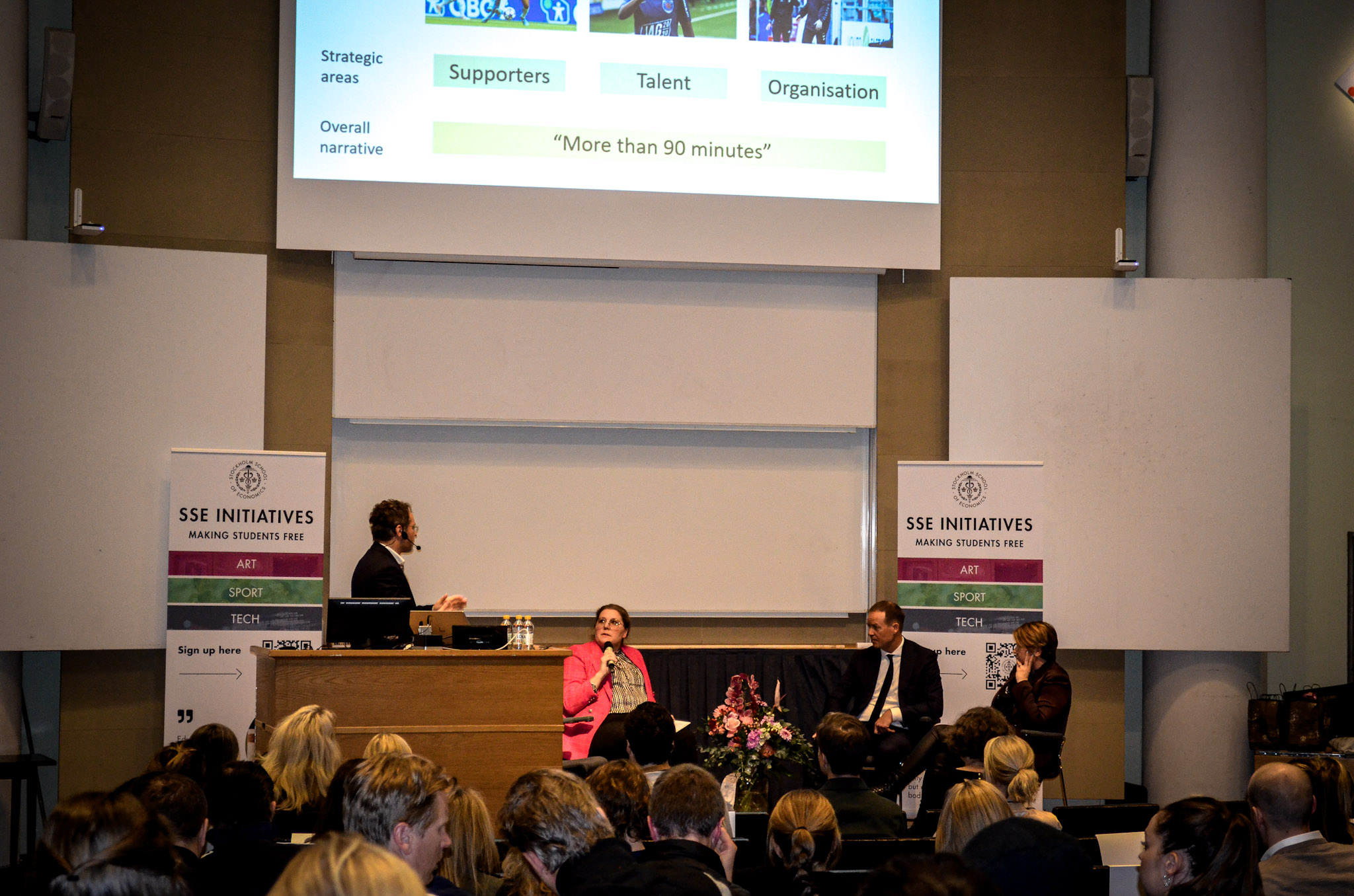 After the event, participants were invited to the SSE Atrium for mingle and light refreshment, accompanied by music from the SSE Student Association's Spexet.