Artful Objects: Graham Harman on Art and the Business of Speculative Realism
What is an object? This question was addressed by Graham Harman, the originator of object-oriented philosophy and a central figure of speculative realism, in a lecture at Moderna museet in Stockholm with a thousand art students, business students and scholars, philosophers and curators in the audience. And now the lecture has become a book: The first book in the SSE Art Initiative series Experiments in Art and Capitalism.
Published by Sternberg Press and distributed by MIT Press, Artdata, Les Presses du Réel.
Buy the book from the Sternberg Press webbpage.
Edited by Isak Nilson and Erik Wikberg.
Providing a thorough exposition of the object from an ontological standpoint, and putting forward a concept of the object beyond reductionism, Harman declares an approach that brings together philosophy and the arts where an object is not reducible to its components or effects and must instead be approached obliquely or indirectly.
The lecture was held on the occasion of "Sculpture after Sculpture," an exhibition of work by Katharina Fritsch, Jeff Koons, and Charles Ray. In the exhibition hall with the show's thirteen sculptures, thirteen questions about the object were posed to Graham Harman by interlocutors from the worlds of art, business studies, and philosophy.

Contributions by
Daniel Birnbaum
Marcia Cavalcante
Micael Dahlen
Pierre Guillet de Monthoux
Graham Harman
Jenny Lantz
Isak Nilson
Sigrid Sandström
Ebba Sjögren
Emma Stenström
Lars Strannegård
Sven-Olov Wallenstein
Jo Widoff
Erik Wikberg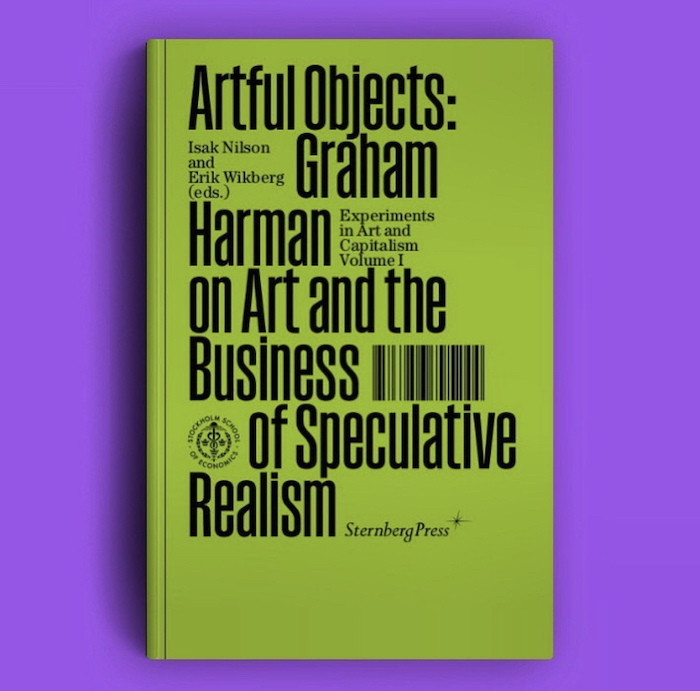 SSE Art Initiative brings together art, business, and philosophy in a way that is vibrant, relevant and meaningful and underlines art's ability to fertilize and influence society.
Gitte Ørskou, Director of Moderna museet
This credo provokes us to liberate things from the slavery of under- and overmining. To cast off the yokes of servile economic commodities, laboring as pecuniary objects. It is also a book, mind you, performatively escaping its own servitude to herald artful entrepreneurship as: Where to start? Start with Art!
Daniel Hjorth, Professor of Entrepreneurship and Organization, Copenhagen Business School, Denmark, Prof. at Nottingham Business School, the UK, and Adjunct Prof. at Graduate School of Management, Kyoto, Japan.