Clouds, Bubbles and Stars
Peter Hagdahl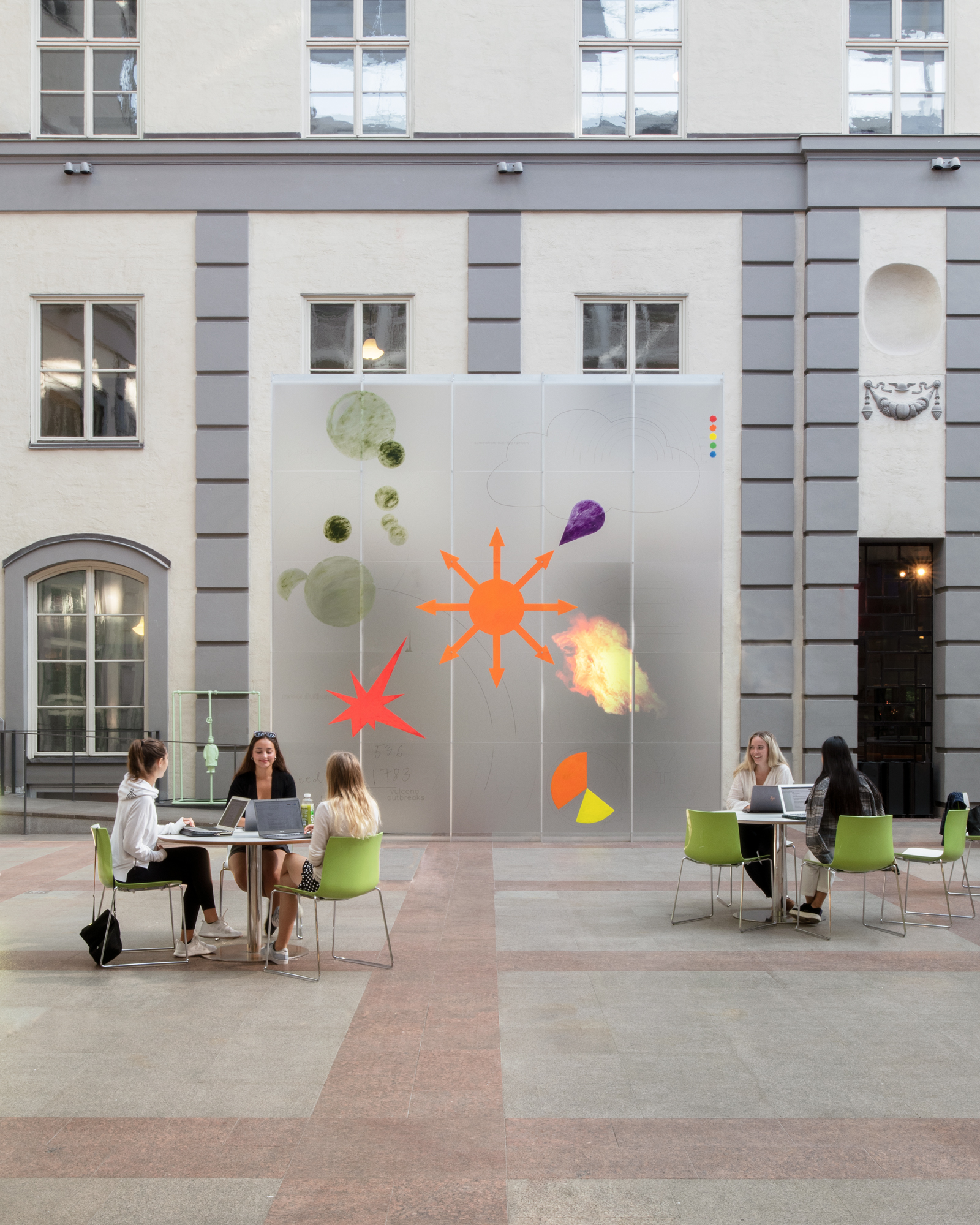 Revolutions, Economics, and Bubbles (Flowchart), Mixed media, 2019. Photo by Mikael Olsson

Peter Hagdahls´s temporary exhibition Clouds, Bubbles and Stars, combines three site-specific works displayed in the atrium and entrance of the Stockholm School of Economics.
In Revolutions, Economics, and Bubbles (Flowchart), we face an associative mind-map comprised of written text, symbols, pie-charts, graphs, and vectors indicating forces and events that evoke societal change. Hagdahl invites the viewer to establish relations between natural disasters, economic bubbles and political events and illustrates the uncertainty of today's world caused by disruptions on markets as well as in nature. Changes that seem to be driven by enigmatic energies, just as in the video-work Star projected on the atrium screen where we see a burning sun evolving into different shapes and colors. The third work consists of projections in the main entrance at SSE. In Clouds, news, reactions, algorithmically selected news from the internet flow onto one of the walls. Hardly readable for the viewer, another algorithm marks each piece of news with a "yes" or "no" depending on its degree of positivity. The work seems to shed light on the ungraspable overflow of information that surrounds us and the algorithmically selected news that we experience through social media. In total, it invites us to reflect on how we are receiving, reading, and assessing news generated through "the cloud", which is projected as a moving image on the opposite side of the wall.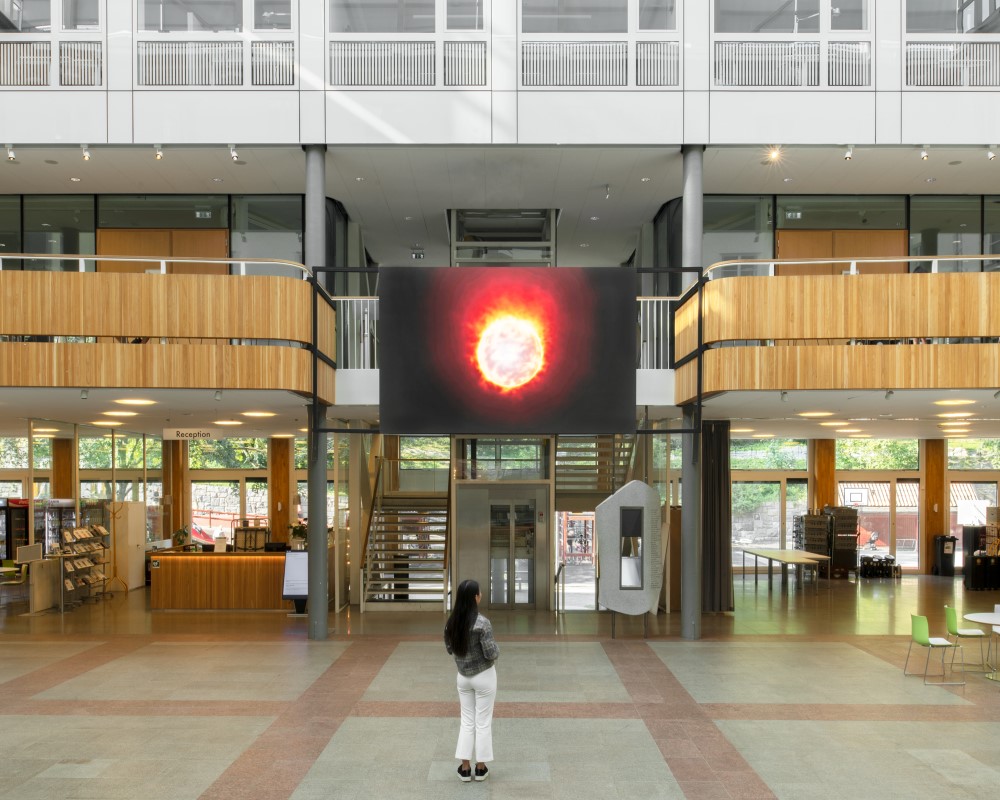 Star, Video, 2019. Photo by Mikael Olsson
In its entirety, the show visualizes the struggle to symbolically capture an increasingly complex world in flux, and the interactions between the factors constituting it.
Peter Hagdahl (b.1956) is a Swedish artist educated at the Valand Academy in Gothenburg and P.S.1 Contemporary Art Center in New York. Hagdahl is one of the most acclaimed Swedish artists working with new media. He founded the Creative Room for Art and Computing, was Professor of Art and New Media at The Royal Institute of Art, and a Research Fellow at the Department of Computer and Systems Sciences at the University of Stockholm. His art grows out of an interactive process that involves dialogue and collaboration with diverse fields such as cultural theory, informatics, urbanism, and science. His work has been exhibited widely in Scandinavia and internationally and is included in several important collections, such as the Moderna Museet collection in Stockholm.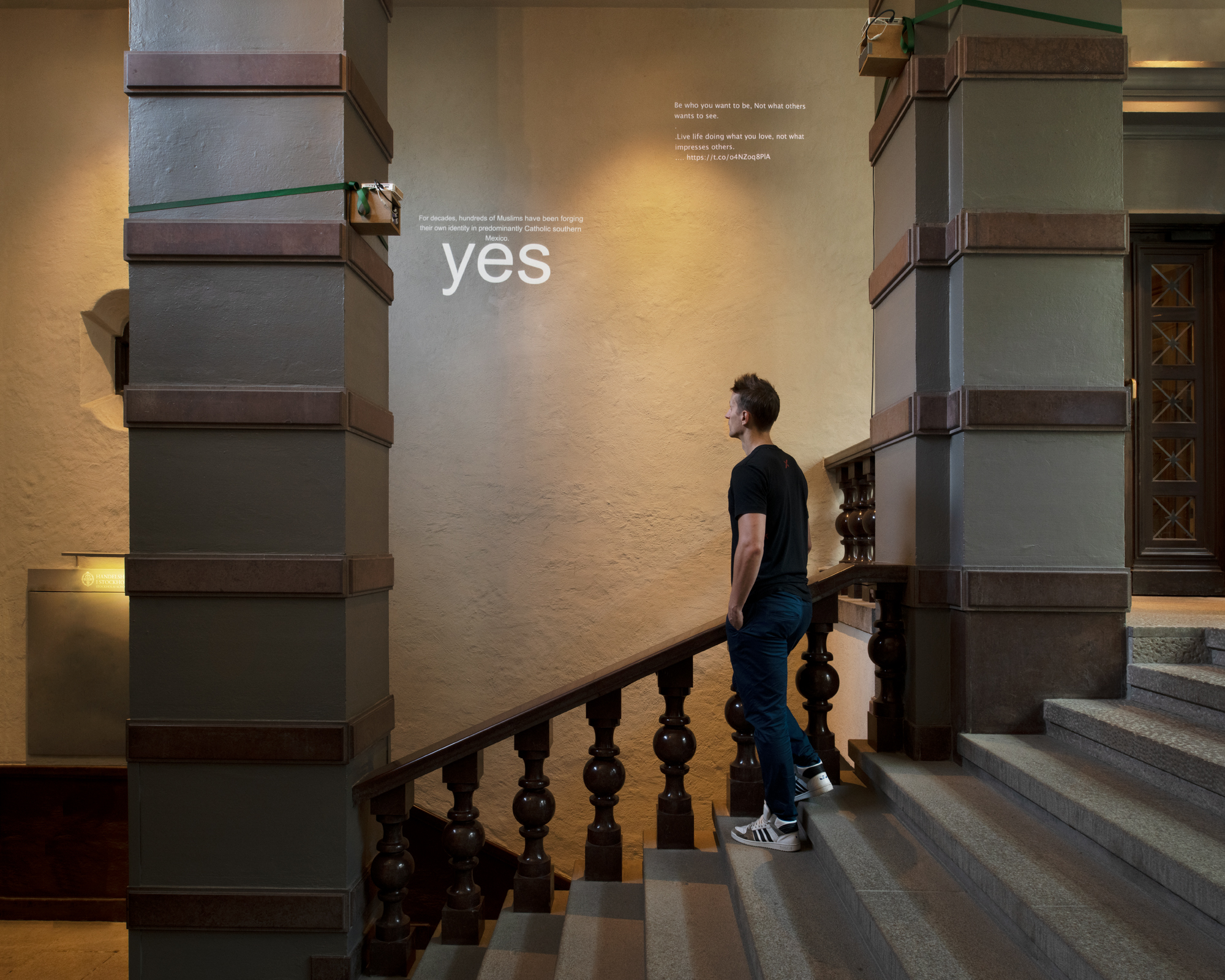 Clouds, news, reactions, live video projections, 2019. Photo by Mikael Olsson