The Bright Way
Maria Kapajevas video The Bright Way is screened in the atrium during February 2020.

The artist Maria Kapajeva was introduced to us by Copenhagen Business School where her videos were a success last year. In her art, Maria Kapajeva, born 1976 in Narva, Estonia and now based in London, combines her personal experiences from growing up on the border to the Soviet Union/Russia, being a woman and absorbing the westernization of her country. Her work is mainly photography, but also video and embroidery - and not seldom a combination of the three. Themes in Kapajeva´s art are gender, national and cultural identity and belonging. She puts the light on shared experiences.
Before studying photography in UK, Maria Kapajeva took a BA degree in Economics and worked some years in marketing. At the age of 30 she left for the UK, where she took a BA and a Master in Photography.
Maria Kapajeva's art whirls around marketing/propaganda and investigates how history and the present are linked together. Kapajeva invites us to ponder "the other" as well as belonging.
In the video "The Bright way" (2017), part of a collection of works called "Dream is wonderful, yet unclear", the artist is creating a travesty of an old Soviet propaganda film from 1940 about textile workers. She uses a double screen with the old and the new video next to each other, and her instructions to her main character are kept in the video in order to deconstruct the happy, traditional feeling and reveal the propaganda.
Second video by Kapajeva: screened on Art Talk, Feb 27
With the #MeToo-movement and recent years focus on the interaction between the sexes, Kapajeva´s video "Test Shooting" is relevant, as it tests the absurdities of the stereotypical presentation of female attractiveness. The video is part of a bigger body of works around Russian mail order brides, and men from the west searching for one. Kapajeva is giving photo instructions produced to women "for best match" that she found on a Russian brides website, to Tim, an English middle-aged man, and asks him to pose; "Open armpits are amazingly sexy." The video has been recorded without prior rehearsal and is characterized by an unedited immediacy between director (Kapajeva) and the model.
"Test Shooting" (2016) will be screened and discussed on the Art Talk on Feb 27, 12-13, in room Ragnar.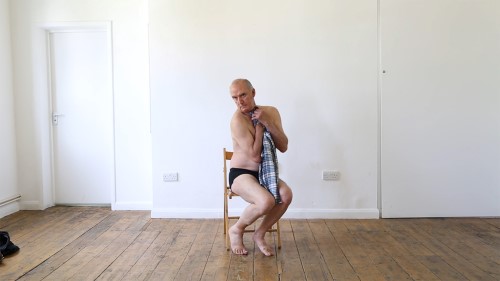 From the video "Test Shooting" (2016).