SSE MBA Student receives the Global Swede Award
17 May, 2017
Miranda Restorick, a student enrolled at the SSE MBA Executive Format, is one of the international top students who received the Global Swede Award 2017 .
For the seventh consecutive year the Global Swede Award was presented by the Ministry of Enterprise and Innovation and Ministry of Foreign Affairs, in collaboration with the Swedish Institute to international students who distinguished themselves in fields closely related to innovation and entrepreneurship.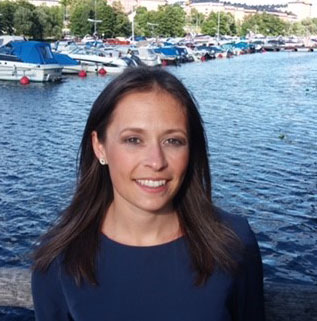 The award ceremony was headed by Ann Linde, the Swedish Minister Swedish Minister for EU Affairs and Trade, and Annika Rembe, the Director-General of the Swedish Institute, at the Ministry for Foreign Affairs.
"I am truly honoured to have been nominated by SSE as a "Global Swede 2017". I look forward to being a part of the Global Swede Network and playing a role in promoting good relations between Sweden and the world, particularly Canada" says Miranda Restorick.
The motivation:
Miranda Restorick is an excellent Canadian student currently enrolled in the SSE MBA Executive Format Program at the Stockholm School of Economics (SSE), while at the same time working at ÅF as Investigator within radiation protection and decommissioning of nuclear plants. She is an energetic and considerate person genuinely interested in learning, collaboration, technology and innovation. Her academic performance, as well as her engagement in the program, business and community, makes her a great Global Swede. She is a very good ambassador for SSE and education in Sweden.
More photos from the ceremony are available at the Ministry of Foreign Affairs' photo page.
About the Global Swede Initiative
The Swedish Institute (SI) is a government agency that promotes interest and confidence in Sweden around the world.
The Global Swede initiative is SI's way to honour young international students in Sweden who are outstanding in their field, and to stay in contact them in their future endeavours.